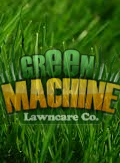 Spring time, it'll be here soon! Time to get your yard looking fresh again! Lawn Aeration is an essential practice that allows your lawn to rejuvenate and heal from excessive drought and foot traffic while promoting healthy soil quality and thatch decomposition.

Green Machine Lawn's aeration service breaks up the interface, or overlap of different soil types or sod, and promotes positive conditions for turfgrass growth and development. The process helps air and water penetrate deep into the soil, which encourages deeper root growth and better turf quality. This aeration provides a much healthier and vibrant lawn and landscape as a whole.

Let us maximize the health and beauty of your landscape. Give us a call or e-mail today!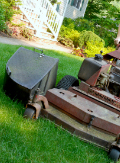 The Groundhog saw his shadow, that means more winter. However, according to weather.com he is wrong and Spring will be here before you know it. Either way, it's never too early to get a lawn company to take care of your lawn. Let Green Machine Lawns take care of it for you!

Ever wish you could get a lawn mowing price as quickly as TODAY? Well, now you can. We make it so easy, you can do it online! Check out our Price Calculator today!

We offer mowing to Residential and Commercial clients! From townhouses to large apartment complexes, we do it all! Mowing, Trimming, and Cleanup, everything is done in a timely professional manner.

We are reliable, and ready to take you on!

We can provide a list of references, who just absolutely love our work! Call today!