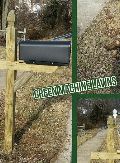 We just recently handled a job where a car went off the road, hit a mailbox and tore up someone's yard. That customer called us to get an insurance quote from us. We came out, estimated the damages and submitted the quote. We can handle ALL insurance quotes for your yard!

We just recently installed a brand new mailbox on their yard. If you have an insurance quote you need handled, give us a call today!
443-863-YARD or use our contact page to send an e-mail!
It's safe to say the cold is upon us, stay inside and stay warm... let us come take care of you!  Take a look at some of our new Winter 2014/2015 deals!


Leaf Removal - Let us remove all leaves/branches from your yard, making your yard shine again!  We can either come out and remove all the leaves/haul them away OR if you raked them all up we can come out and haul them away.  Either way it'll be affordable for you!

Snow Removal - Get an early quote now before the snow comes!  Prices starting out at $25!!

Brush Removal - ANY kind of brush you need removed, we got it! 

Call today at 443-863-YARD or use the contact form, for a free quote!

We are professional, reliable, and we guarantee top-quality service!  We beat our competition in prices!