Lawn Mowing season is here. Would you like a professional, reliable lawn care provider? You have found the right company. From the Mowing, to the Edging and cleanup, we get the job done! Residential and Commercial, no job is too small or big for us!

We make it even easier than ever to get a FREE quote within' just seconds! With our PRICE CALCULATOR, you can enter your acreage, amount of trees you have, sidewalks, gates, etc.... Click submit and let us know the price you got! It's so simple! Then just either E-Mail or call us!

Reach us today: 443-863-YARD or use our Contact Page!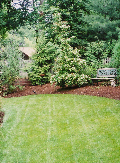 Spring is right around the corner! It's time to get your yard looking beautiful again! Looking to have some weeds pulled, overgrown bushes trimmed back, and new mulch put down? Let Green Machine Lawncare take care of it all for you! We have very competitive pricing, and will make your yard shine!

Our services include, taking care of all weeds, trimming back bushes, new edging, all cleanup removal, new mulch, and a mow. Contact us today to get these great services!

We also offer cleanup jobs, gutter cleaning, tree trimming/removal, and so much more!

Check out some of our work in our Photo Gallery section.

443-863-YARD (9273) | Instant Quote | Contact Us