Price Your Yard Today! starting at $25...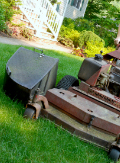 The Groundhog saw his shadow, that means more winter. However, according to weather.com he is wrong and Spring will be here before you know it. Either way, it's never too early to get a lawn company to take care of your lawn. Let Green Machine Lawns take care of it for you!

Ever wish you could get a lawn mowing price as quickly as TODAY? Well, now you can. We make it so easy, you can do it online! Check out our Price Calculator today!

We offer mowing to Residential and Commercial clients! From townhouses to large apartment complexes, we do it all! Mowing, Trimming, and Cleanup, everything is done in a timely professional manner.

We are reliable, and ready to take you on!

We can provide a list of references, who just absolutely love our work! Call today!