It's safe to say the cold is upon us, stay inside and stay warm... let us come take care of you!  Take a look at some of our new Winter 2014/2015 deals!


Leaf Removal - Let us remove all leaves/branches from your yard, making your yard shine again!  We can either come out and remove all the leaves/haul them away OR if you raked them all up we can come out and haul them away.  Either way it'll be affordable for you!

Snow Removal - Get an early quote now before the snow comes!  Prices starting out at $25!!

Brush Removal - ANY kind of brush you need removed, we got it! 

Call today at 443-863-YARD or use the contact form, for a free quote!

We are professional, reliable, and we guarantee top-quality service!  We beat our competition in prices!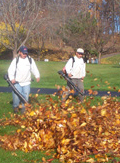 Green Machine Lawns offers substantial cleanup services to remove and properly dispose of leaves and branches that the autumn season leaves behind. Like our other services, our prices are competitive and our workmanship is exceptional.
Call us today to schedule a FREE QUOTE for Leaf Removal! 443-863-YARD or contact us via e-mail using the contact page.
Let us build a lawncare package with you today! We offer lawncare + leaf removal + snow removal at discounted package deals! !